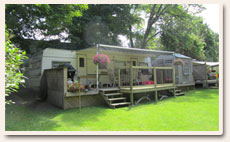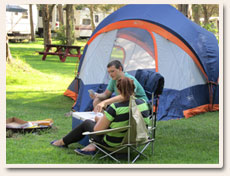 Welcome to Edgewater
Family Camping Resort!
Imagine a hot sunny day and a calm lake, smooth as glass and you are gliding along in your canoe. None of life's pressures or stresses on your mind, just the sound of birds in the trees, the slight whisper of a
breeze, and the odd fish jumping in West Lake waiting to be caught.


We are situated on our own little cove, with a sandy beach and the most wonderful view of the world famous SAND DUNES. You can swim in the clear waters or get to the Lake by boat for a great day of fishing. There are so many things to do! Take your barbeque and a packed food basket and have a picnic on the dunes. You couldn't ask for anything better. All this is waiting for you at Edgewater Family Camping Resort.
FUN Things To Do
"WEST LAKE WILLY" Is Edgewater Park's sea monster. It has been said that he inhabits West Lake. He apparently can be spotted if you look to the west just after sundown. Some say that you need to be a child at heart to be able to see him. Who knows!, maybe you will be the lucky one.