Activities
RELAXATION
"Hey! Relaxation is not an activity!" you say...At EdgeWater it is, and you will be enjoying allot of it. Leave the concrete world behind, traffic jams, hectic schedules, stress and pressure and enjoy the beautiful relaxation activity that is Edgewater Family Trailer Park. Warm sun, warm water, warm people and the most beautiful scenery at your doorstep. Do we need to convince you further?...
SOCIAL CLUB ACTIVITIES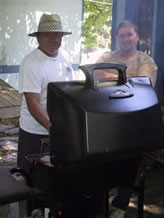 Our seasonal campers have an active social committee. They are always planning activities for our campers to enjoy:
Beef / Pork roast
50 / 50 draws
Pot luck dinners through-out the season
Halloween for the children
Annual Corn Roast
Pizza & Wing Night
Long Weekend Pancake Breakfast
Steak BBQ
Our Famous fishing derby
FISHING AND SWIMMING
West Lake is great for fishing, and swimming is great when you can take a refreshing dip in a nice warm lake. There are also small fishing boats available for rent, for those who wish to get out on the water for the bigger game.
There is a lot to do in the county, here are a few...
COUNTY POINTS OF INTEREST
Antique Shops and Flea Markets
Two Golf Courses, and Driving Range with Mini putt
Museums
Lake on the Mountain
Windsurf Rentals
Wineries
Bicycle Rentals (see links)
Quaint gift shops
Road side Fruit & Vegetable Stands
Hospital & Medical Clinic
Wonderful Restaurants
Mushroom Farm
Drive-in-Theatre
---